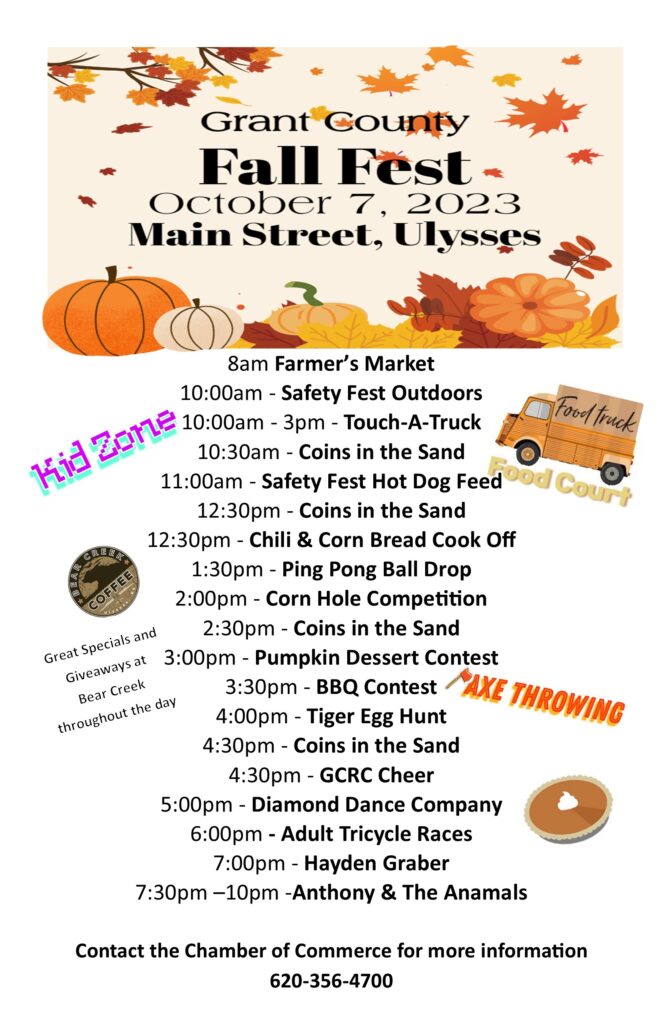 Fall Fest is Coming!
October 7th will find downtown Ulysses bursting with activity. The annual Fall Fest celebration kicks off at 8:00a.m. with the Farmer's Market which moves to Main Street for the special day. Pioneer Electric and Pioneer Communications sponsor the annual Safety Fest for families at the Gt. Co. Recreation Activity Center. There will be lots of take home ideas and items to enhance the safety and well being of your children. This will be followed by a free hotdog lunch beginning at 11:00a.m.
Or "Touch a Truck Event" will also be back this year, where our local businesses bring their company vehicles to Main Street to showcase them. There are a lot of different types of vehicles from a hearse, to a street sweeper, to a crane and even tractors and farm machinery. We would love for the kids of our community to come down and climb in and around these vehicles to really get a close up view of how they operate and learn about different vehicles they don't typically get to see. The Touch Truck vehicles will be on Main Street from 10am to 3pm to give the public an opportunity to view them.
While you are downtown visit all of the local merchants and the vendors that are set up for your shopping pleasure. When you get hungry take the time to enjoy some of the delicious food from the vendors located on the Northern block of Main, by The Movies or visit one of our local restaurants and enjoy a meal indoors.
The Grant County Ambassadors are sponsoring a ping pong ball drop at the Gazebo intersection on Main Street at 1:30p.m. with prizes awarded to several lucky winners. Bring the kids age 12 and under to Memorial Park across from the hospital at 3:00p.m. for the Tiger Egg hunt. You will want to bring a basket or bag so they can gather the orange and black eggs. Keep your eye out for special prize eggs.
Kids will love finding buried treasure at the Coins in the Sand activity at 10:30a.m., 12:30p.m., 2:30p.m. and 4:30p.m.
We don't want the kids to have all of the fun so we are adding an adult tricycle race this year. Get your team of 4 together to compete in the race on adult sized tricycles. Participants must be age 18 or over. Contact the Chamber of Commerce to register your team.
Grant County Recreation will be sponsoring a few different contests this year, window decorating, Chili and Cornbread cookoff, Pumpkin dessert contest, and a corn hole competition.
Diamond Dance will also be performing on Main Street at 5pm. Come see our local talented little dancers!
We are bringing back Anthony and The Anamals for evening entertainment as well as Ulysses' own Hayden Graber! They are sure to entertain the entire family so bring your lawn chairs and come spend the evening on Main Street in Ulysses. Hayden starts at 7:00p.m. and will be followed by Anthony and The Anamals until 11:30p.m.
Vendors are welcome to set up a table on Main Street and join in the fun. Please contact Grant County Chamber of Commerce for more information. You may reach the office by phone at 620-356-4700 or by email at [email protected].
There will be something for everyone at the Grant County Fall Fest. Don't miss the fun!